Well here it is folks! My first EVER fanfic that I have actually finished! and it's going puplic!

Title: First Words Spoken
Rating:PG-13(charlie drops the f-bomb once and there's implied sex.. :) )
Summary: Written for Charlie/Claire challenge using Charlie, Claire, the island, and a clown.
Characters:Charlie, Claire, Locke



I'm screwed for this lab band playing test tonight because i was not here when he gave us the songs...
I supposedly missed another playing test when I was in England...
I have vespers tonight till 10...
I have vespers tommorrow till 10..
I have vespers Thursday and Friday till 11...
I have a(nother) music theory test tommorrow...
I have my first individual ear training test thursday...


AAAAAAAAHHHHHHH!
bbbrrr its cold outside..
Current Mood:

busy
Current Mood:

dorky

Current Music:

what do u think? of course the GoF soundtrack...



Ps. Guys,(even though you're all girls..) I love you soo much. Like you don't even realize. Your comments have made my day.

At least I have no more classes today..and only 2 tommorrow..
Man, I really really really want to go home right now. I realized how much I miss my friends at home. I don't really have a lot of friends here..and they just don't understand me like my friends at home do. Well maybe Greer does but thats about it.(well we did spend a week together in England..w/ the sex beds lol) I do like it here though and i'm not going to trasfer or anything. I'm just ready to have a break and go home and see everyone(even though I did just have a week long break in England..). I just can't wait to see Harry Potter w/ Louise, Jill, Katelyn and everyone else(we're soo going to annoy all the people who chose to see HP that day..mwhahaha). It's going to be amazing. I can't even wait any longer.
Current Mood:

Homesick

Current Music:

"Train Under Water"-Bright Eyes
Current Mood:

Obsessed

Current Music:

Harry Potter and the Goblet of Fire Soundtrack
Me and Greer in the car on the way to St. Louis
Riding in the cart so we can get to England on time. "Beep beep! Watch you back!"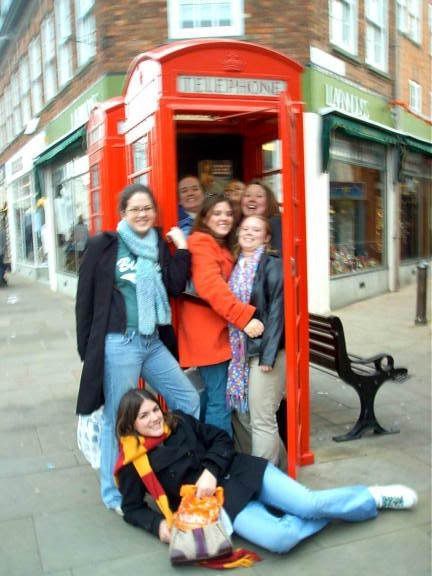 The girls in a British phonebooth
Theres a store called Morrisons there..isn't that awesome!
The girls and the cutest british lady ever.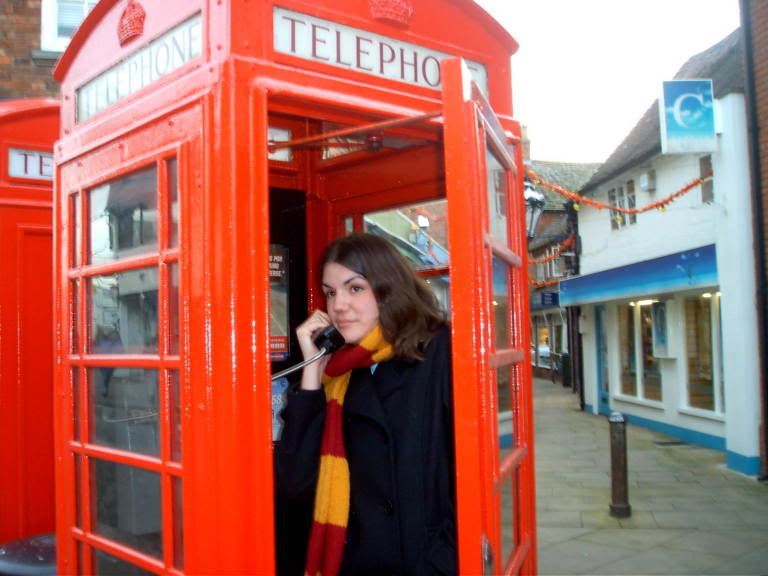 Me on the phone.
Double decker bus with Harry Potter ad.!!
Lots more to come. Much love, Emily
OMG England was in a word..awesome. I wish I lived there. Well i'm going to post a few pics. I might write more later because i have to unpack and do homework..blah..and then tonight is HARRY POTTER!!! :) i keep forgetting about it lol.
Current Mood:

excited

Current Music:

Ben Folds


I'll have pics and stories when i get back!!

All my love,
Emily!
WEll, I won't be back until next Wed...cause i'm going tooooo ENGLAND!!! The country I've wanted to go to since..like birth i think..lol
Current Mood:

Excited!!!!!!!

Current Music:

Not Myself-John Mayer


You know you love me,(and I love you)
EM
I don't know how people stay up late every night..I was up till like 3 doing fing critter hw..and i was only doing it sunday night cause i was incredibly busy all weekend(except sat night when i watched spiderman 1 and 2 w/ a bunch of ppl..but i needed a break then ok?) Then i still had an entire speech to write..so i skipped lunch today to write it..and finished it..barely and then i didn't even end up going today..arg..o well at least its done. Well, at least tommorows advising day so no classes!! i don't have my appoinment till 11! yey! i'm so sleeping till 10..lol Thanks for all ur comments guys it really made me feel better. but also made me miss all of u! :( I love you all! But, I'm going to England on Thursday so I'm excited!!! And then Harry Potter!!!
Current Mood:

hungry and tired...

Current Music:

Annie Waits-Ben Folds


lol just thought id complain in my lj..

*end pointless post*
arrrgg my itunes library was "damaged" and now all my playlists and ratings are gone grrrrr..
Current Mood:

aggravated

Current Music:

Build Me up Buttercup