One of the best weekends I've had in a while.
Friday night--Went to Shannon, Kerry, and Holly's apartment for their Halloween party dressed as fem-Bones or as I called myself Dr. Lenora McCoy: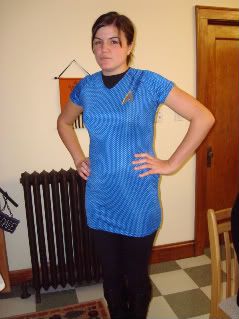 Wasn't as ridiculous as I sometimes am at parties..and talked with guys normally without making out! Got 2 numbers! One guy was super creeper though..the other guy I thought was gay at first but really nice and cute lol. The only bad part was that $20 was stolen from me. I noticed the next day. I had my purse like right behind me in this picture, but I didn't really think much of it. There were a lot of people I didn't know at the party so I guess I've learned my lesson. Hide purse! Here's more pics from Friday night: Clearly I never really smiled because I was trying to be in character lol.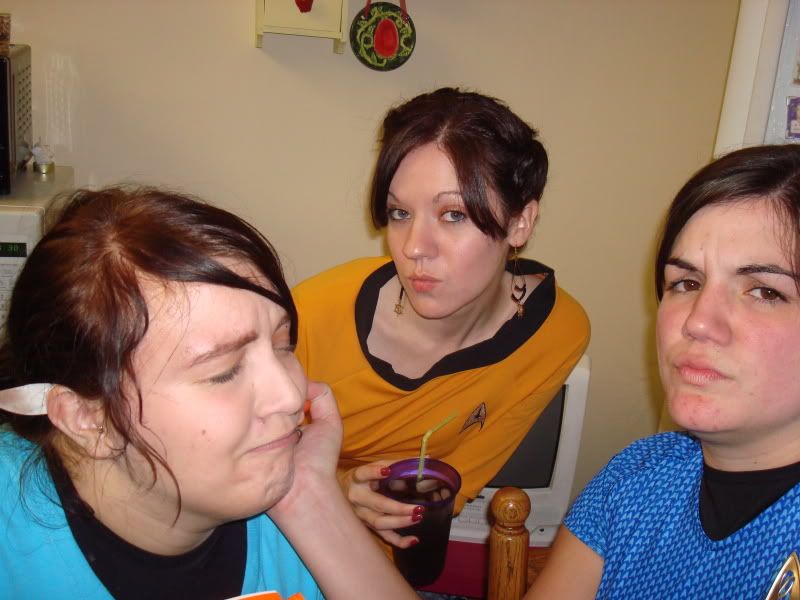 Fem-Spock, Kirk, and Bones. I'm totes giving Spock a fake Hypo.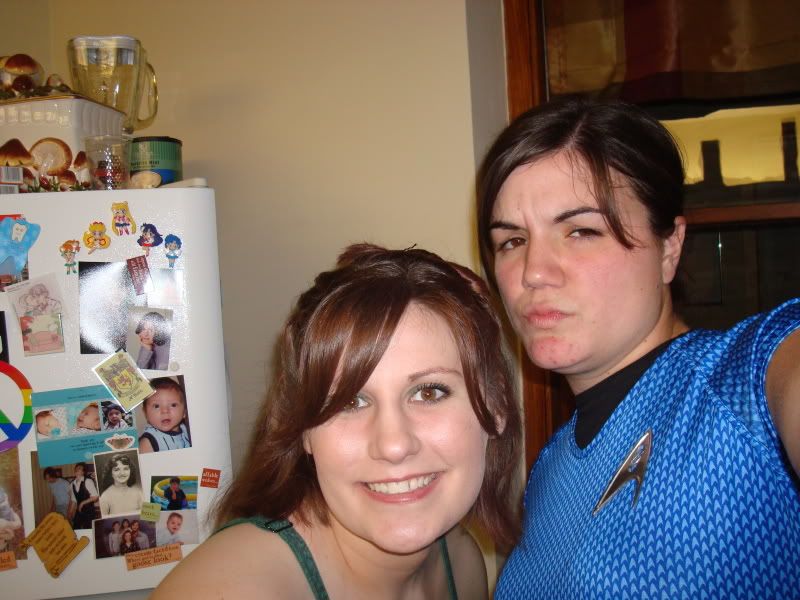 Me and Kerry.
Kirk would get into this.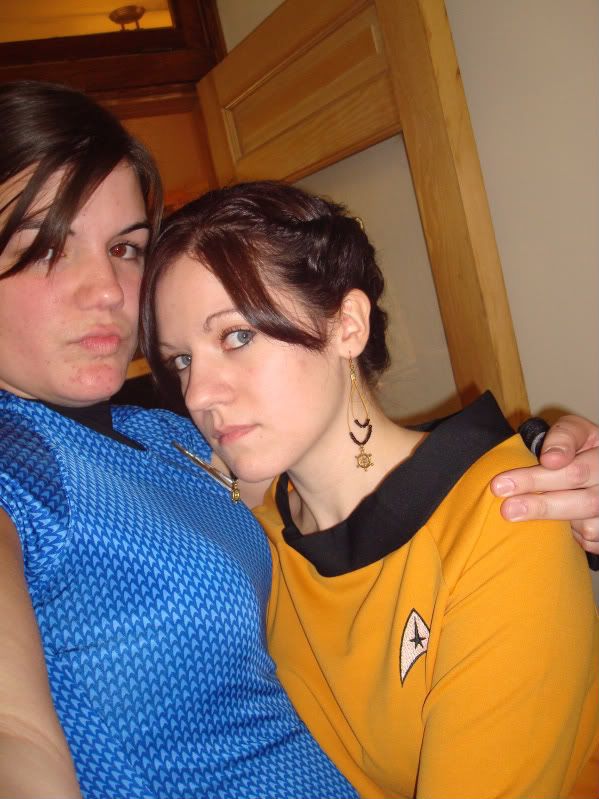 Bones and Kirk <3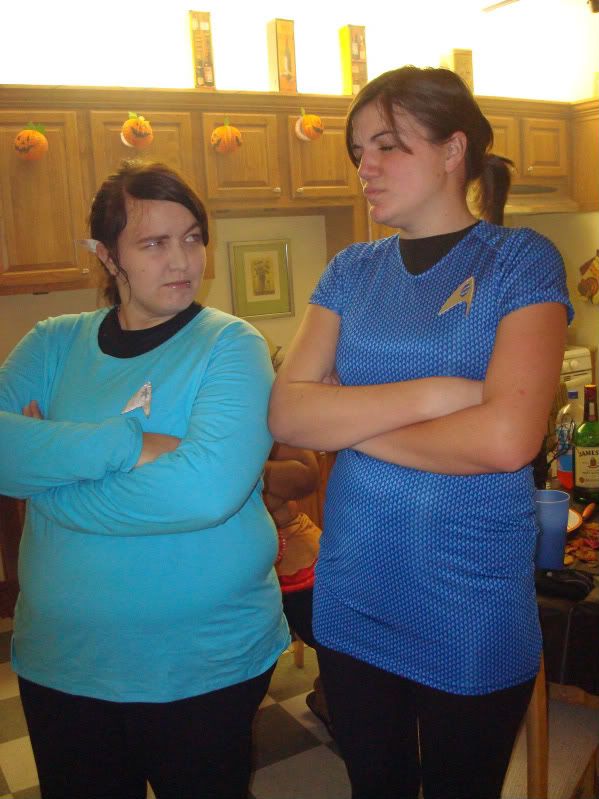 She had the Spockeyebrow down perfectly. I sadly could not do the crazyeyebrow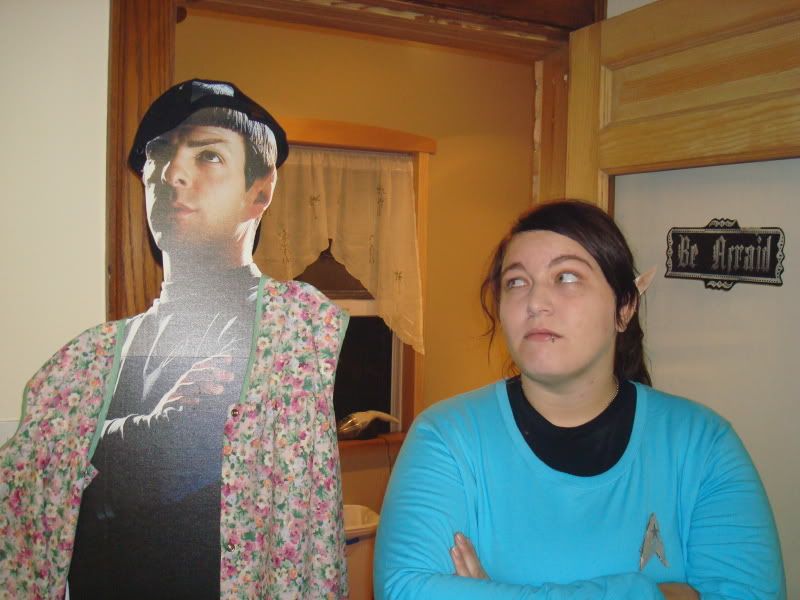 Like I said..PERFECT.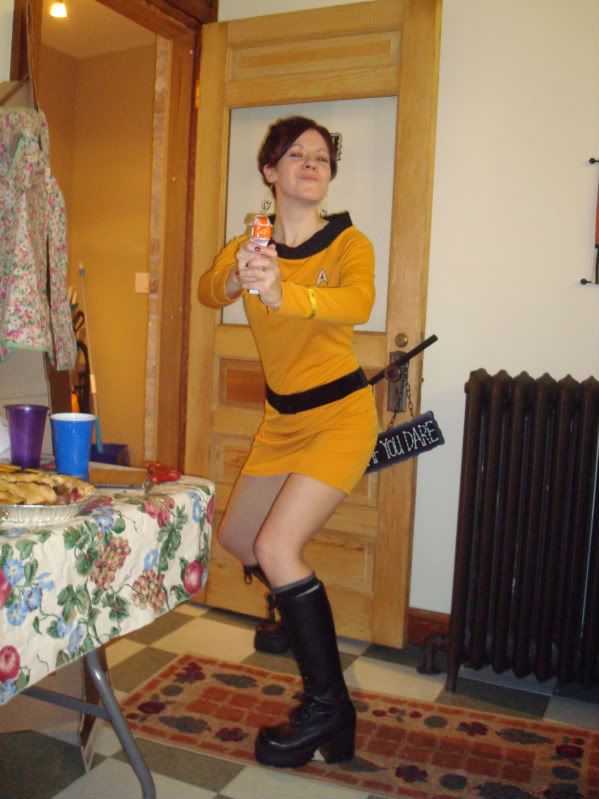 Love this picture.
For this next set of pictures. Keep in mind that we both fell in love with Kirk/Bones from the fanfic:
Two Men and a Motorbike.
There was a motorcycle in the alley. Ok. Moving on.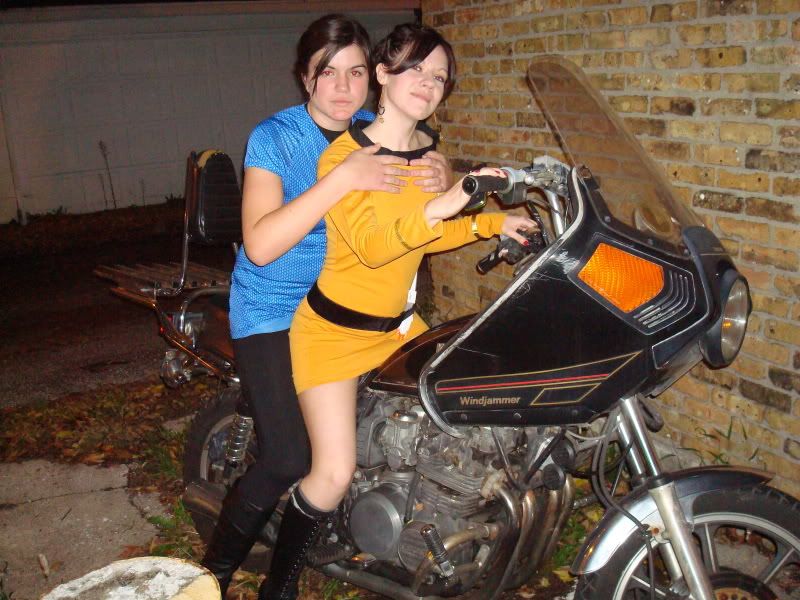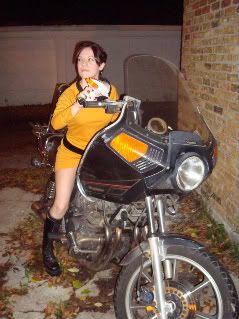 +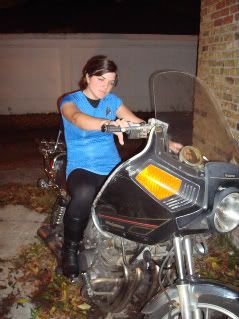 =<3
Saturday--Woke up hungover. No surprise there. I thought was just going to have a low key Halloween and hang there, but decided I should go visit Louise since I haven't seen her in AGES which is just crazy.I finally felt okay by the time I got to Hyde Park, and by that night I was ready to drink again lol. I also decided that taking 6 shots of bacardi and southern comfort was an okay idea. Oh it so was. Louise and I went to a low-key Halloween party and were the drunkest people there. We thought we were being subtle, but I guess we were really obvious. OH well. This was the first time Louise and I ever got drunk together so it was great. We had some great convos. We then went to a bar after this. There was this guy at the bar who kept looking over at our table. He looked so lonely and sad. I kept saying that I wanted to ask him why his heart was crying lmao. Well Louise's friend Erin had more balls than me and went to talk to him and had him come over to the table. He seemed interested and even walked out with us, but didn't ask for numbers or anything oh well. When we got back to Louise's apartment..I laid down on the couch and didn't wake up till 7:30..still wearing my costume. This is actually the convo I had in my head:
*wakes up* OH god. Please don't let me still be wearing my costume. *feels clothes* SHIT. I am.
I def got up and changed. Louise took more pics and videos lol but this was the best pic I took from Saturday:
Sunday: Didn't have that bad of a hangover. I thought it would get worse, like it did on Sat, but nope! Am I getting more tolerance? Huzzah.
After spending the entire weekend seeing both sides of the city I am pretty much decided that my goal for next year is to live in Chicago. I would be closer to my friends and there's so much more to do. Gotta secure that teaching job first.
All in all a fab weekend.I had such a fun time with friends that I'm not really that upset about the money being stolen. I need to have more weekends like this in my life. And I just really love Halloween.